Middletown Middle School- "Best Christmas Pageant Ever" is this Friday and Saturday at the MHS Multi-Purpose room at 7:00 pm! See the attached flyer for more information. Please consider supporting our MMS students by attending this pageant (we've been told it's the best one ever)!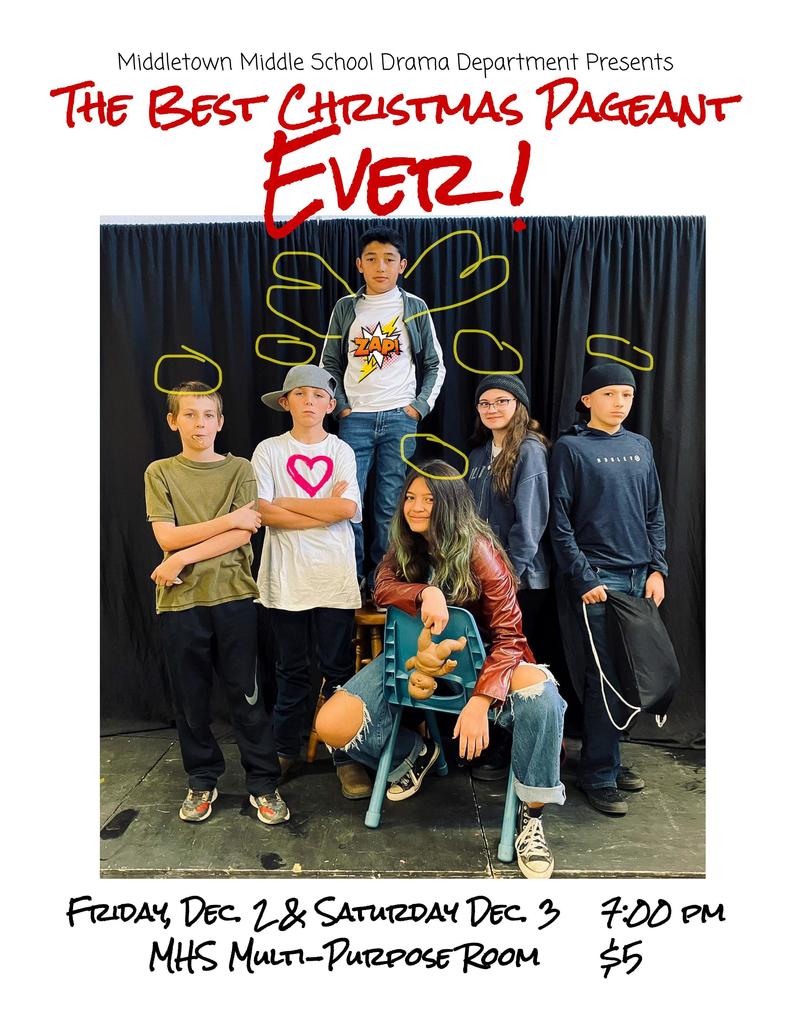 Middletown Wrestling Club Sign Ups at 6:00 tonight in the CVE cafeteria! note: This team is not affiliated with CVE. It is a youth wrestling club run through USA wrestling.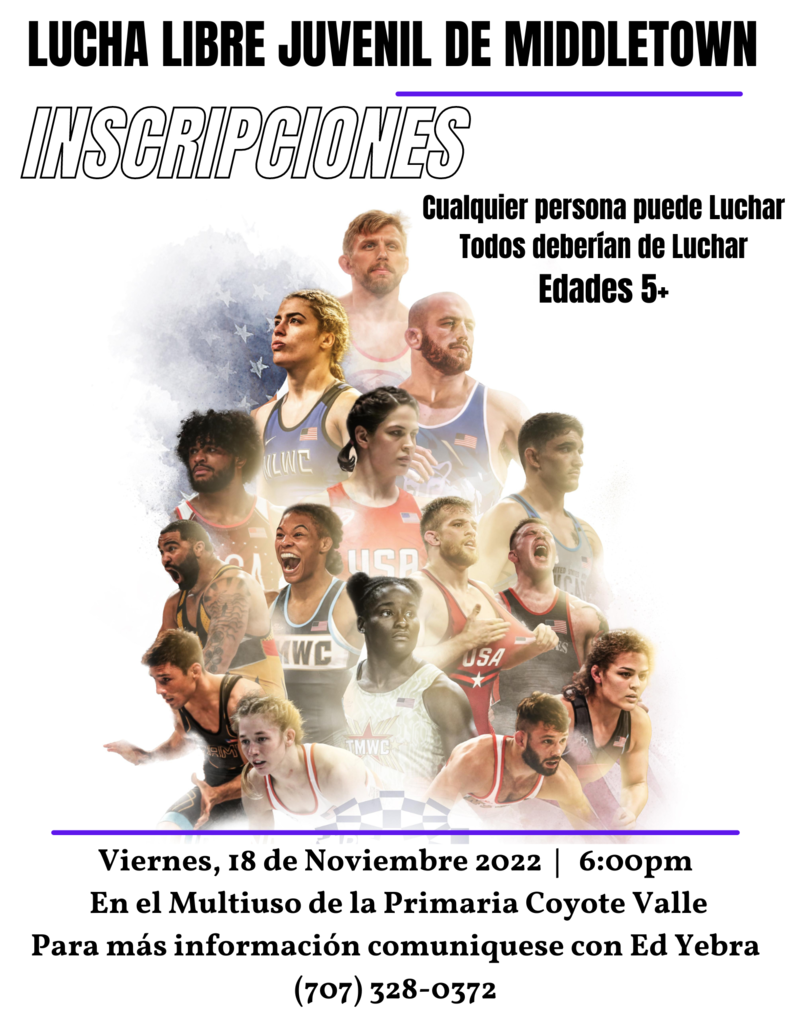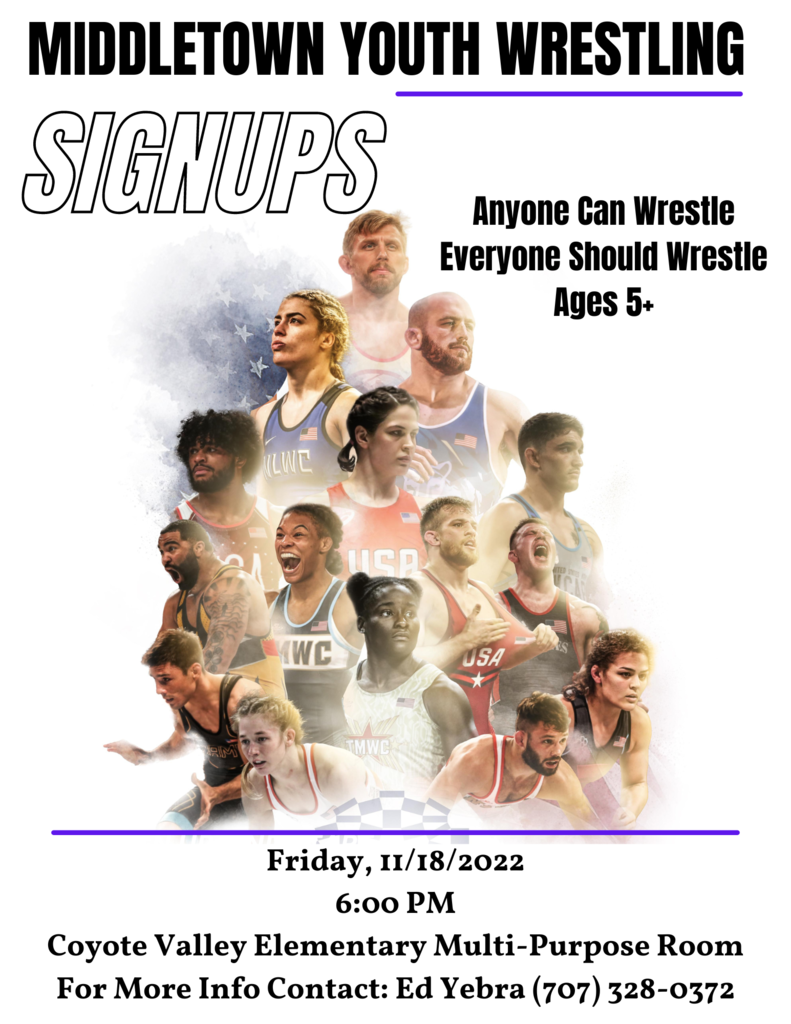 Meet at the Hartmann Mailboxes Monday, 11/14 at 8:00 AM! CVE's student leadership team is inviting all students to meet together at the Hartman mailboxes. To walk to school together in honor of the anniversary of the day Ruby Bridges walked to school. The leadership team wants to walk together to show that all students belong and are welcomed at Coyote Valley Elementary School. We will leave the mailboxes at 8 am and walk safely to school together. Please wear purple if you can. We will have beanies, buttons, and bracelets while supplies last.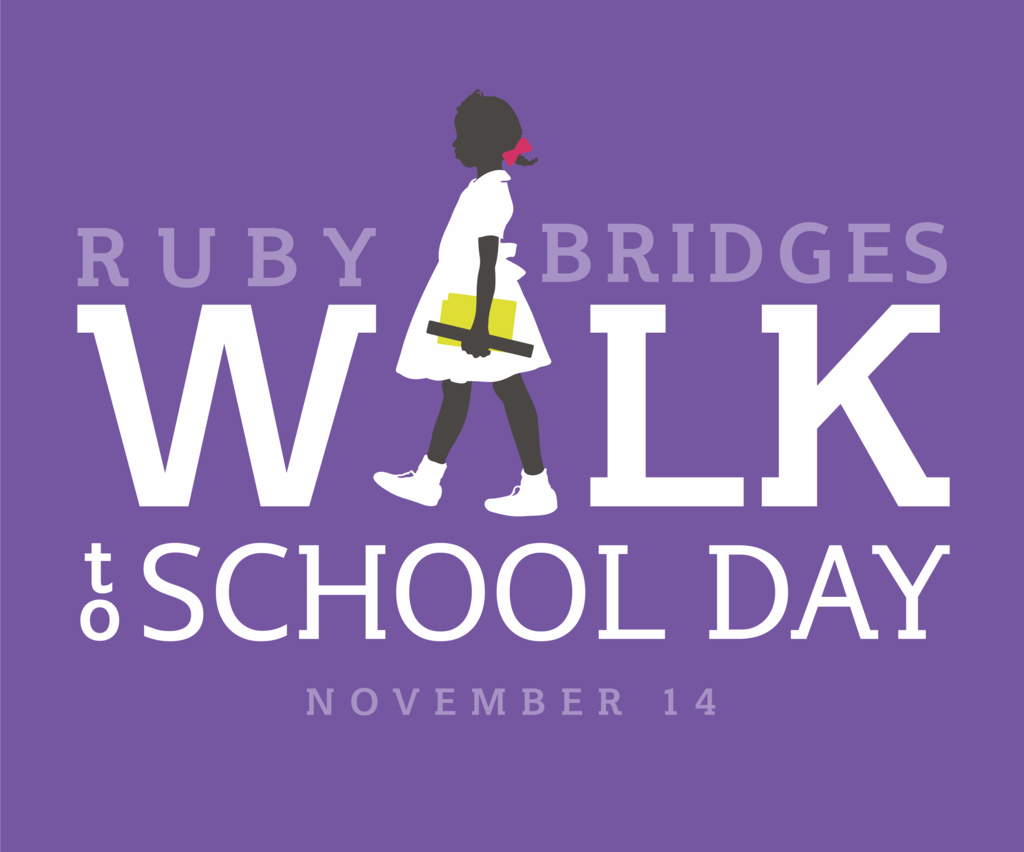 Message from our PTO: Howl can we show our teachers and staff howl much we appreciate them? With FOOD! ️ Next week is a super busy week for the CVE teachers and staff as they wrap up the first semester and get to meet with all of the students' families! Many of them work long days during conference week so we love to pamper them with some yummy meals! ️ Please see the attached Google document to sign up for items to donate! Items can be dropped off to the office the morning of that meal! Please message the PTO if you have any questions and thank you for supporting our awesome teachers and staff!
https://docs.google.com/document/d/1o1_araWPd3dHUc9Iz8dfkv882M3UhcUNoIewDmAxPjY/edit?usp=sharing_eil_m&ts=63680ab2
I need Howl'p comin up with more puns! Happy Thursday CVE. Reminder, no school tomorrow 11/11 in honor of Veterans Day. Thank you to all who served. We cannot thank you enough for your service and sacrifice. CVE Leadership team invites everyone to join them for Ruby Bridges Walk to School Day at Hartmann mailboxes on Monday, 11/14 at 8 AM to walk to school in honor of her courage and bravery 62 years ago. The event is to help end racism and all forms of bullying. They ask for people to wear purple to support the event.
https://docs.google.com/document/d/1JuBh0M9zTruxIqXmduwRVehX5tx6kvJ1/edit?usp=sharing&ouid=112578725225108209613&rtpof=true&sd=true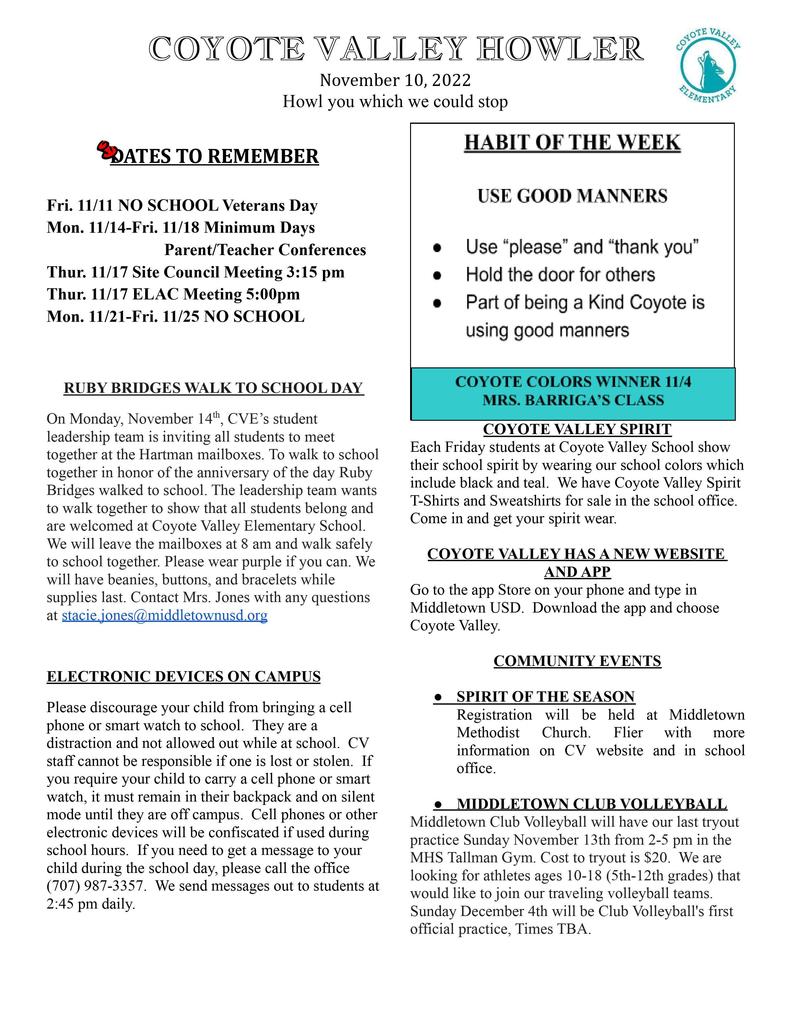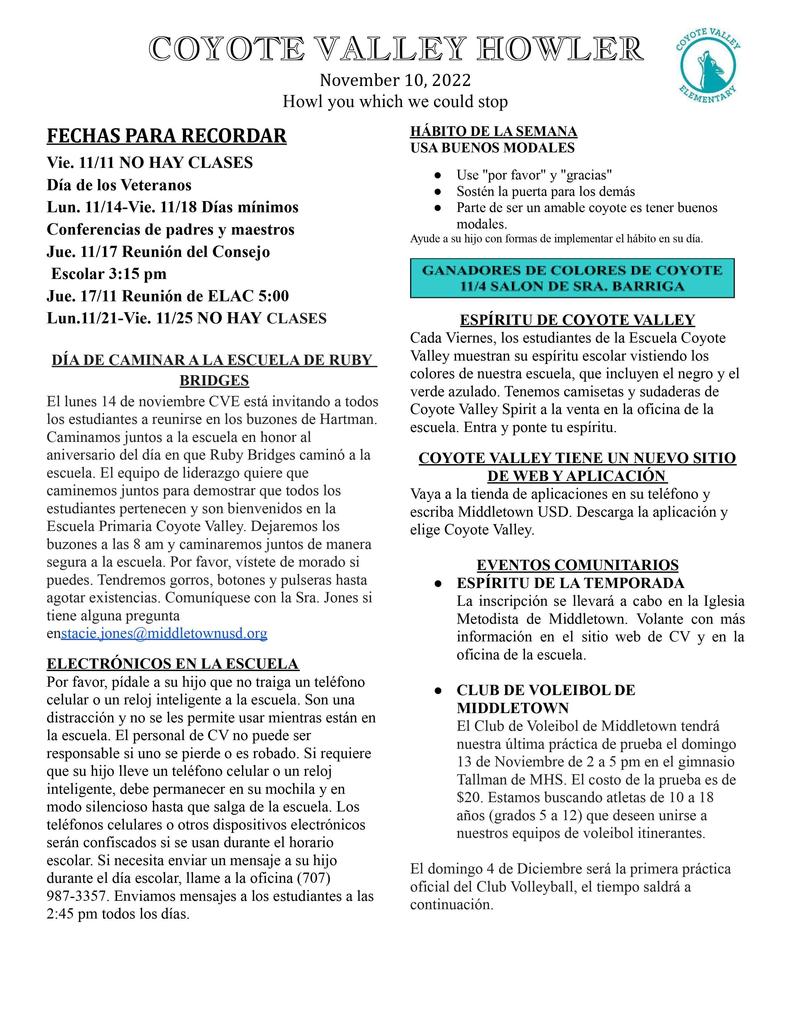 Catch up with the latest student stories, events, and news updates. It's everything Middletown USD, in your pocket. If you haven't already, download the app! Download for Android
https://bit.ly/3PoBLIG
Download for iPhone
https://apple.co/3AmzEk4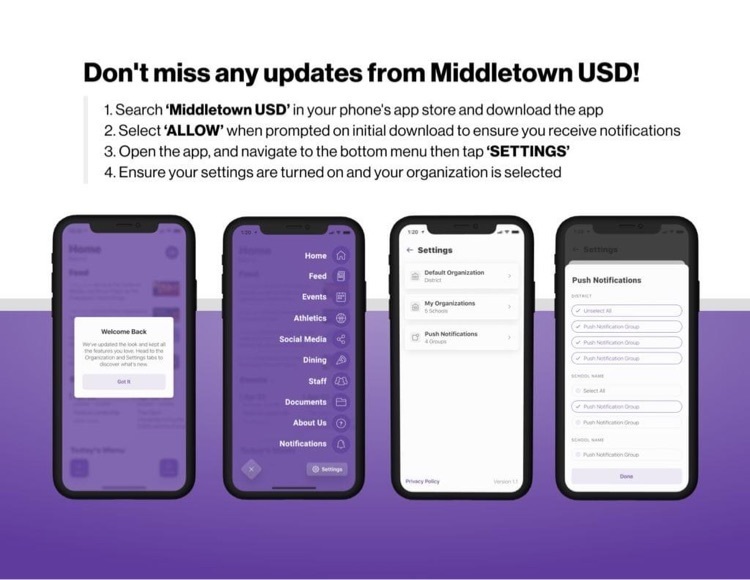 Reminder: No school this Friday in observance of Veterans Day. Thank you to all who served.
Good morning CVE. Due to driver shortages, MUSD will need to adjust the bus routes until 11/10/22. This means that students who ride the green/yellow bus will be late for school. They will not be marked tardy. We apologize for the inconvenience, and look forward to our new drivers starting soon. Please see the new bus schedule below.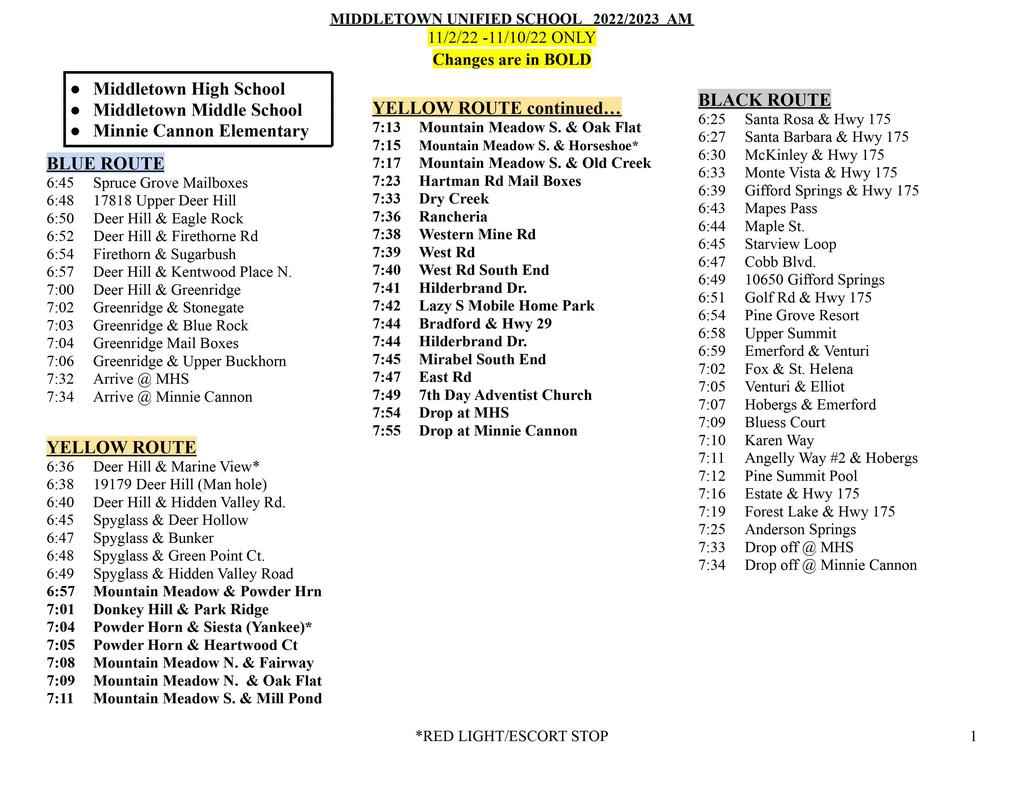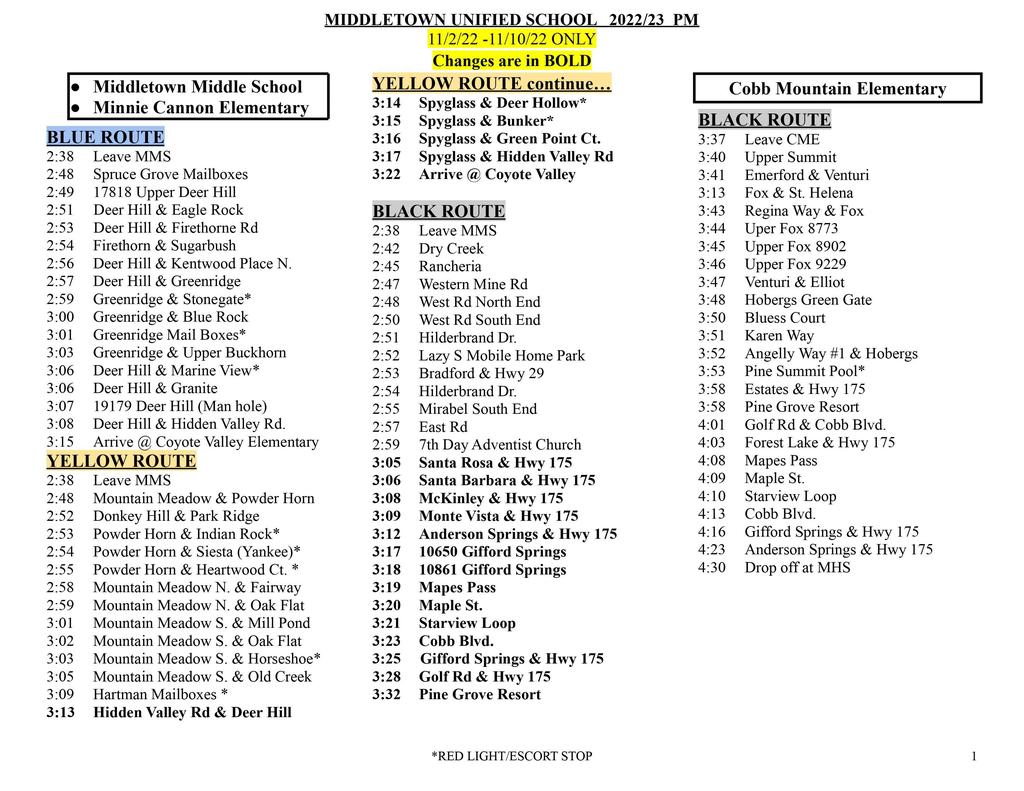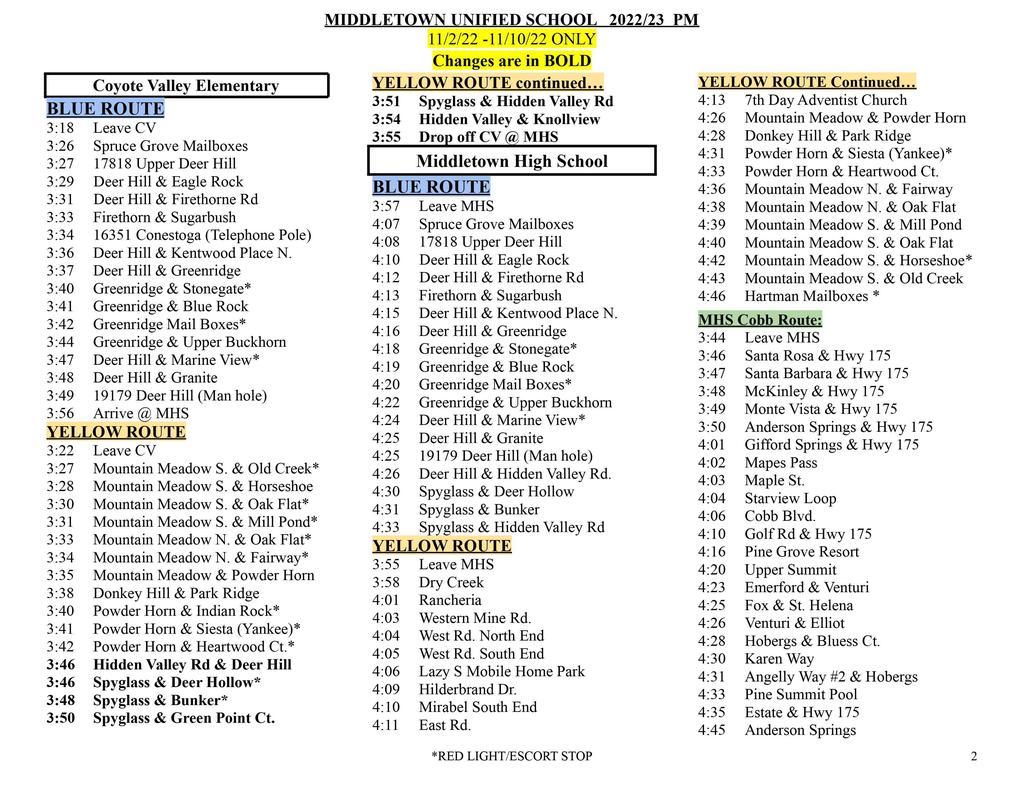 Amazing pumpkin carving by Brennah Genetiano! What an awesome way to celebrate the season.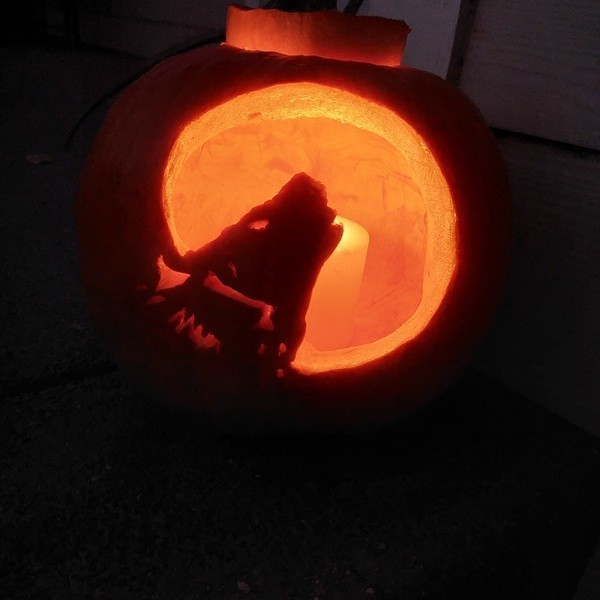 More Howl-o-Ween fun from CVE PTO! The Monster Mash is coming and we need your help Coyote Families! We are asking for all families to consider sharing their Halloween decorations this Thursday at 6:30 PM in the cafeteria. We will be having a very short PTO meeting and then combining our efforts to decorate the haunted stage! We are looking for fun Halloween decorations including larger items, figurines, cobwebs and fun lights. please consider bringing your Halloween decorations down to the school before you put them away for next year! We also are looking for snack donations! Any types of snacks to serve at the dance -individually wrapped- would be so greatly appreciated! We are expecting a big crowd and want to have enough treats for all! Treats can be dropped off anytime between Thursdays PTO meeting and Friday at the end of the school day!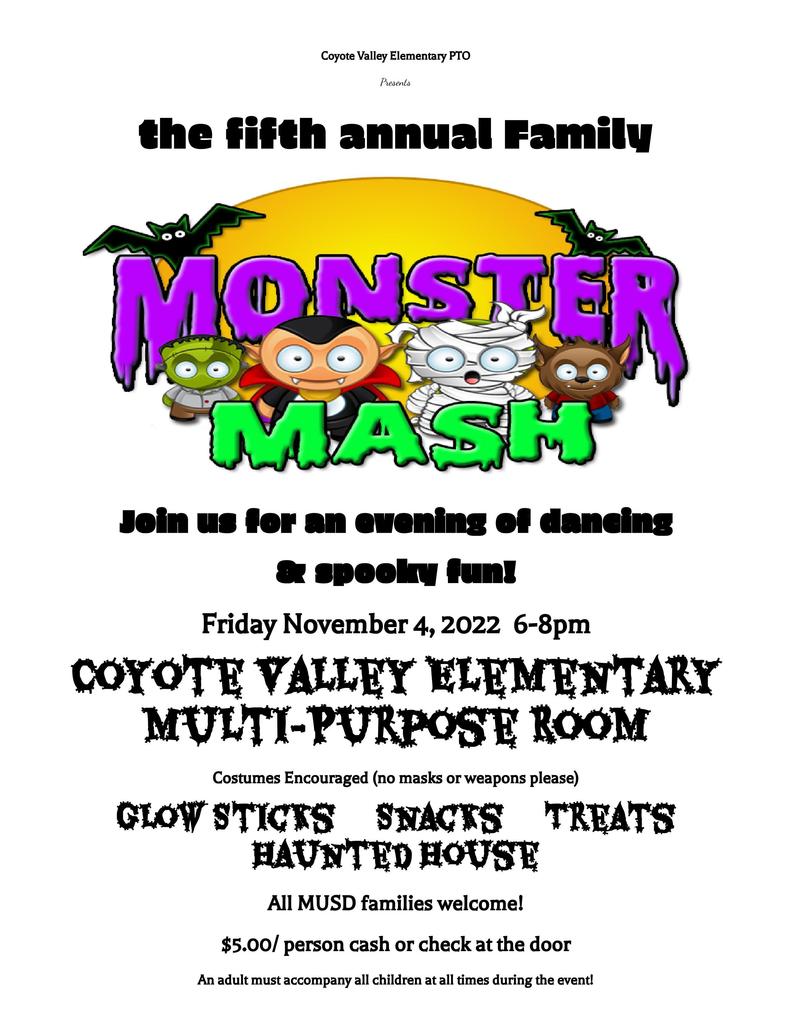 Happy Howl-o-Ween CVE! See the attached flyer for Howl-o-ween at CVE information! Also, please join us today for our Howl-o-ween parade at 1:15. Make sure to sign in at the office and meet us on the field/blacktop. Lastly, please remind your students to stay out of the creek near the Greenview and Golf course. Students have been walking on the golf course before and after school, and it can be dangerous. Thank you for your help keeping our children safe!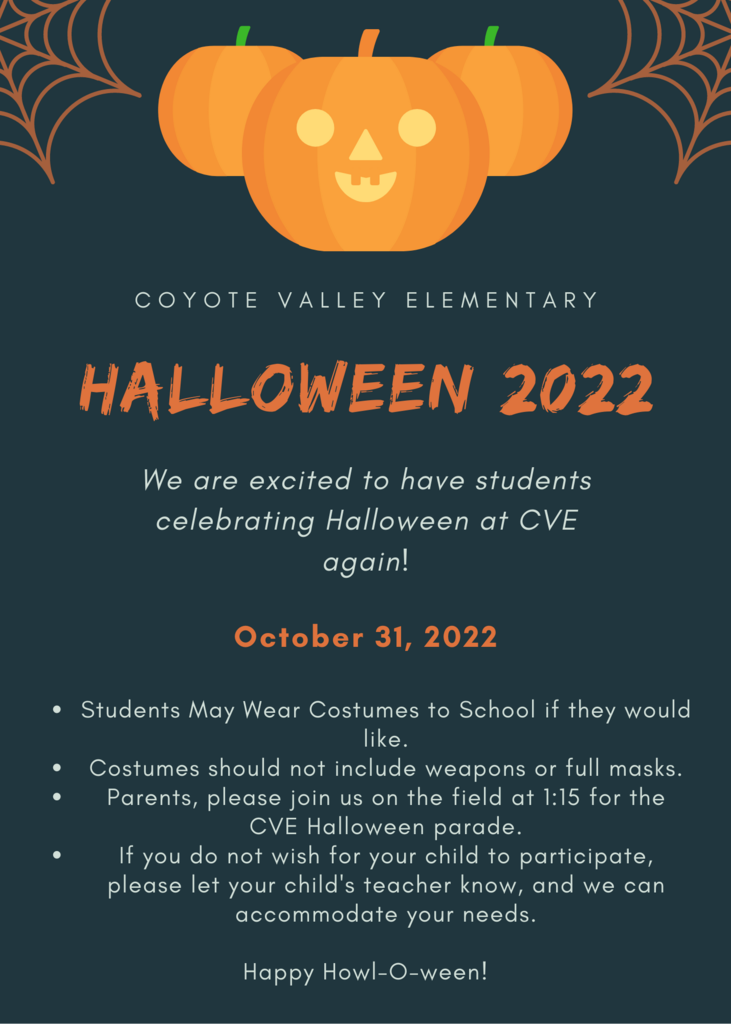 Have a great weekend CVE. Don't forget to Shine!
Happy Friday! Parents and guardians, please take a few minutes to vote for the CVE site council parent representatives. Our first site council meeting is 11/17/22 at 3:15 PM in the library.
https://forms.gle/6gNFFKyyo7jNnNzr8
CVE is still looking for two people with big hearts to join our team. We are looking for a 1st grade teacher and an aide for our special education program. Please see the attached flyer for more information. We would appreciate if you could share with anyone who may be thinking about starting a career in education.
Happy Monday CVE! A few reminders for the week: Wednesday and Thursday are minimum days. School is release at 1:00. Wednesday is also make-up picture day for CVE. Make sure to let your student know if they need to take make-up photos. Halloween Spirit Week! Starting Wednesday, 10/26 and going until Tuesday, 11/1, we will be doing a CVE spirit week. Please see the attached flyer for details. Also, please join us on 10/31 at 1:15 for the CVE Halloween Parade! Visitors must sign in at the office. Please see the attached flyer for more information.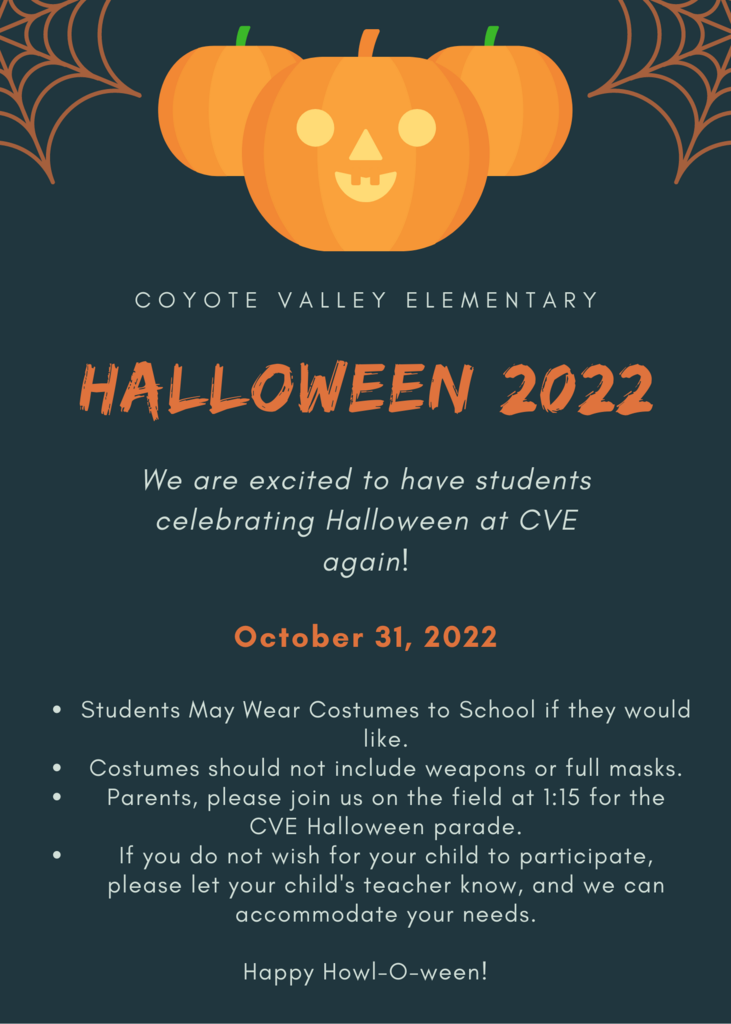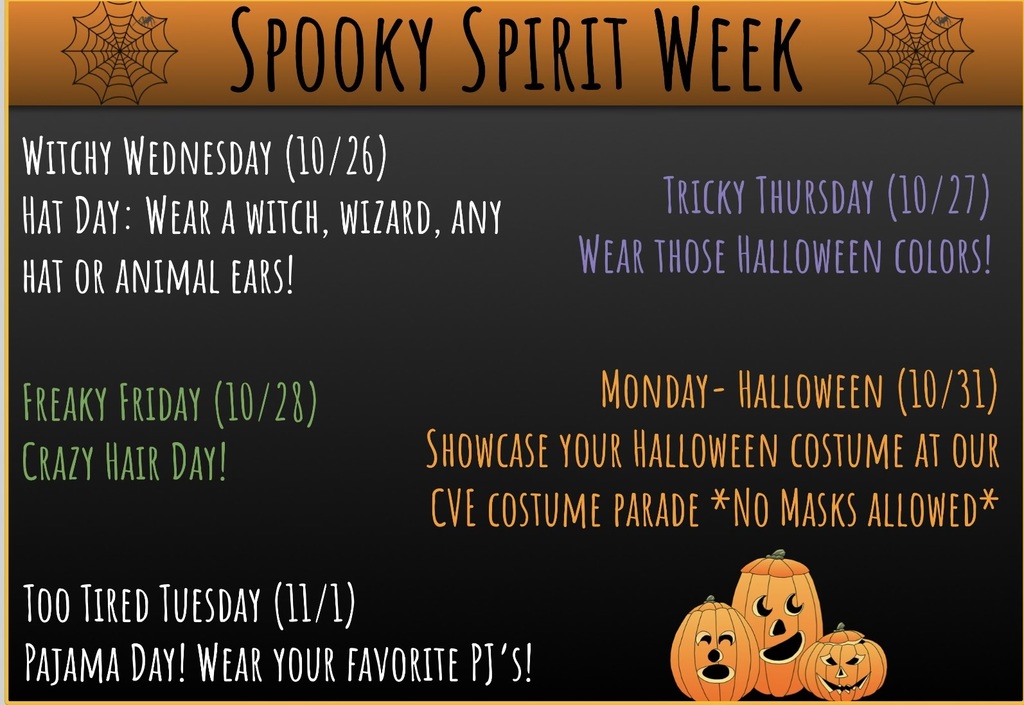 MUSD MESSAGE: Hello Families and Staff, We are down one bus for our afternoon routes. Please be patient as it will take additional time for all students to arrive safely to their stops. Have a great weekend.