Auction update from our amazing PTO: It's almost time! The CVE Dinner and Auction is just around the corner. We have 10 tickets left until we are sold out! If you'd like to join us please come to CVE office to fill out a slip and provide payment. We are so grateful for all the support and help from all and can't wait for this event to take place.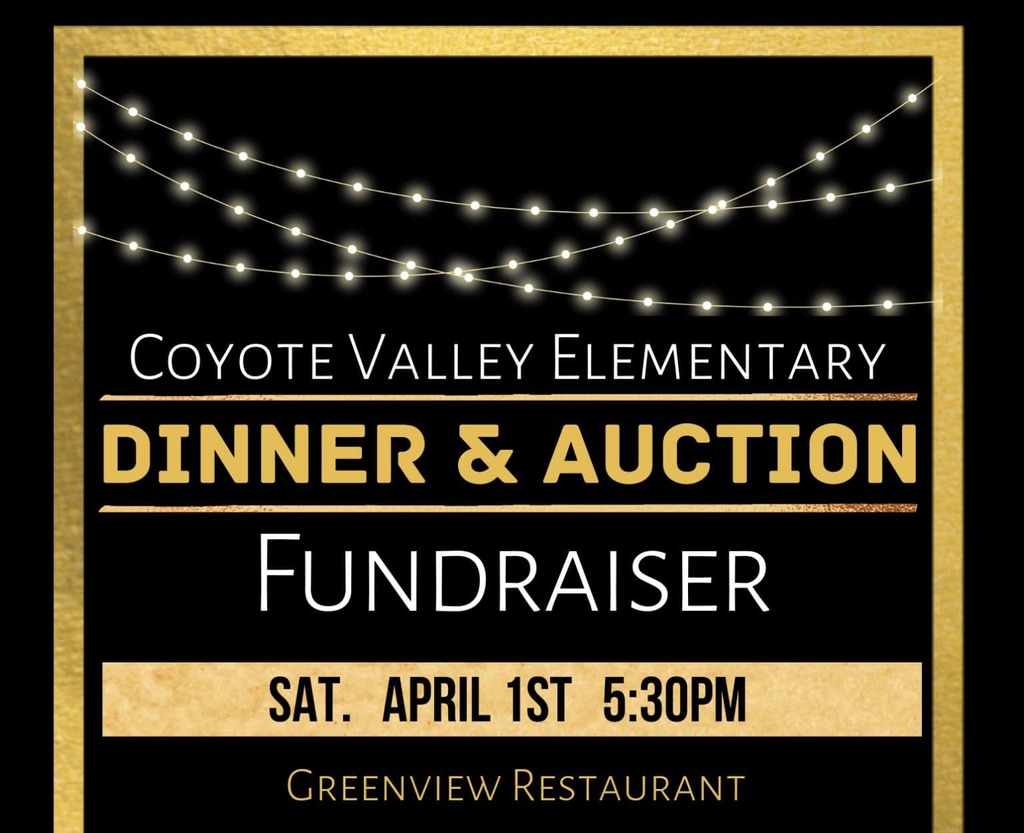 Please join us for our ELAC meeting 3./29/23 at 3:15. We are planning the Cinco de Mayo celebration. We need volunteers to provide food, supplies, and experience. We will be having Ballet Folklorico lessons through the month of April and will have a celebration on Cinco de Mayo. This will be our final sign up meeting before the event! Por favor únete a nosotros en nuestra junta de ELAC el 29 de Marzo del 2023 en donde estaremos planeando la celebración del Cinco de Mayo. Necesitamos voluntarios que proporcionen comida, útiles, y experiencia. Tendremos clases del baile Folklórico a través del mes de Abril y tendremos una celebración del Cinco de Mayo. Esta será la última junta para apuntarte antes del evento!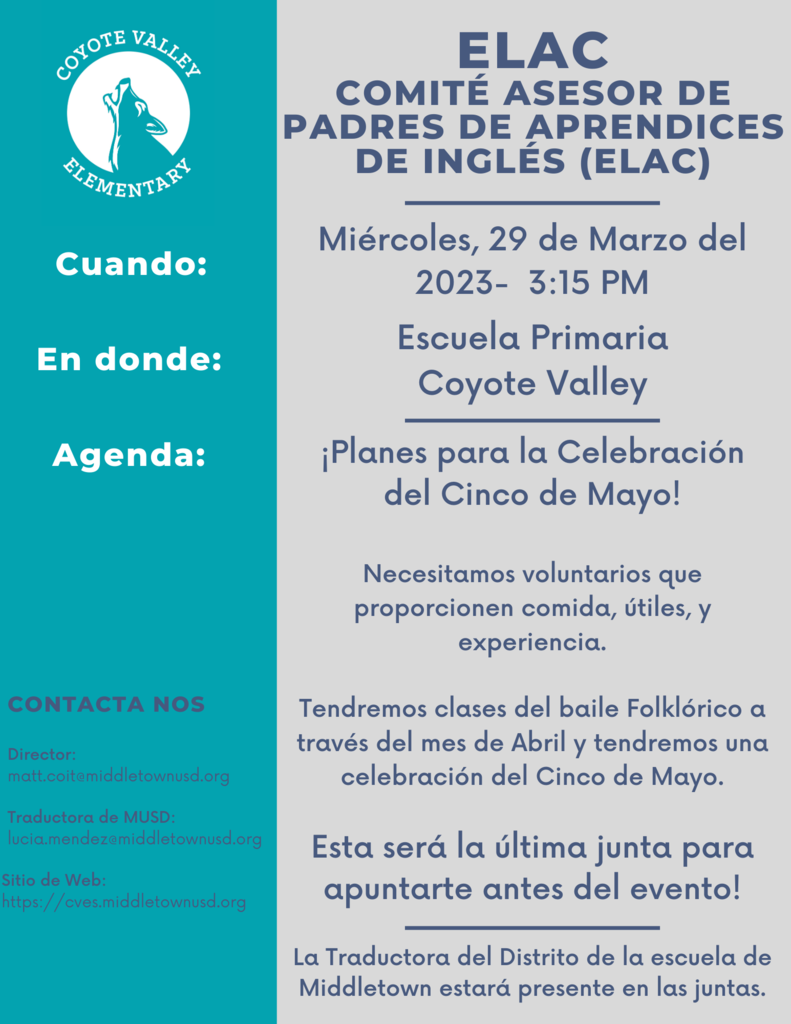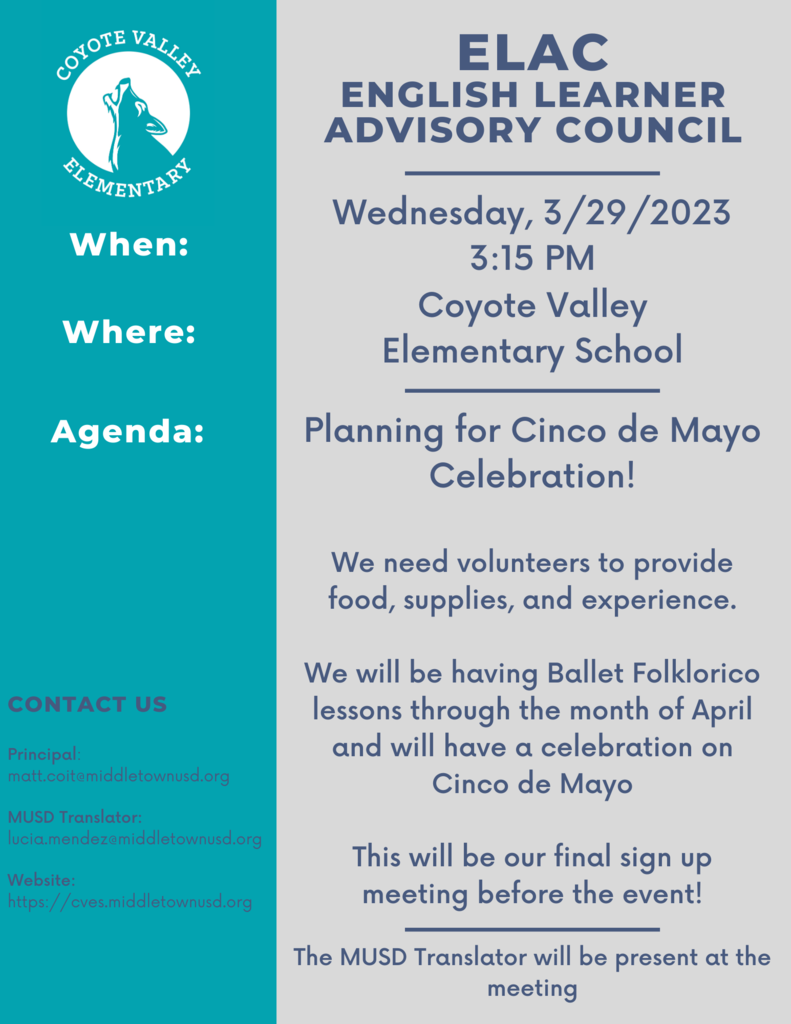 Good morning CVE families! This is just a reminder that we have minimum days all this week for conferences. School is out at 1:00, and busses will run two hours earlier than normal. To view the school calendar, please visit our website or click the link here.
https://cves.middletownusd.org/o/cves/page/calendar
Have a great week!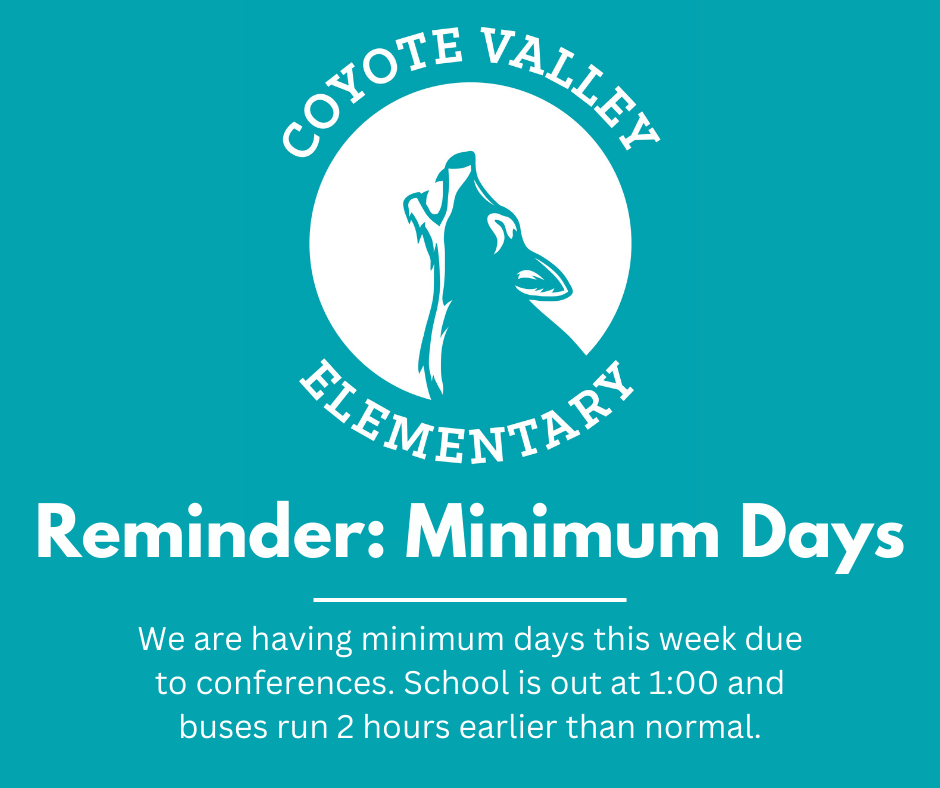 Today at the lower grade (1-3) recess in the afternoon a student reported a baby snake to the teacher on duty. The snake, who turned out to be a gopher snake, was quickly captured by the CVE staff. This was used as a learning opportunity for our students who were out at recess for what to do if they see a snake. Big thanks to Gavin Howard for reporting the snake right away to our staff. The snake was picked up by Jairi at Nor Pines snake relocation. Thank you to her for showing up quickly and taking the little guy to a farmstead that will be a better fit for him than our playground. This would be a great time to speak to your student about snake safety as the weather warms up and they start venturing out of their summer homes.
Happy Friday CVE! Check out the 3rd issue of the Coyote Cubs Crier. Another amazing issue from Laylony Barocio, Adrianna Jensen and Liam Miller. Keep up the great work!
Amazing Dr. Seuss art from Mrs. Flora's first grade class!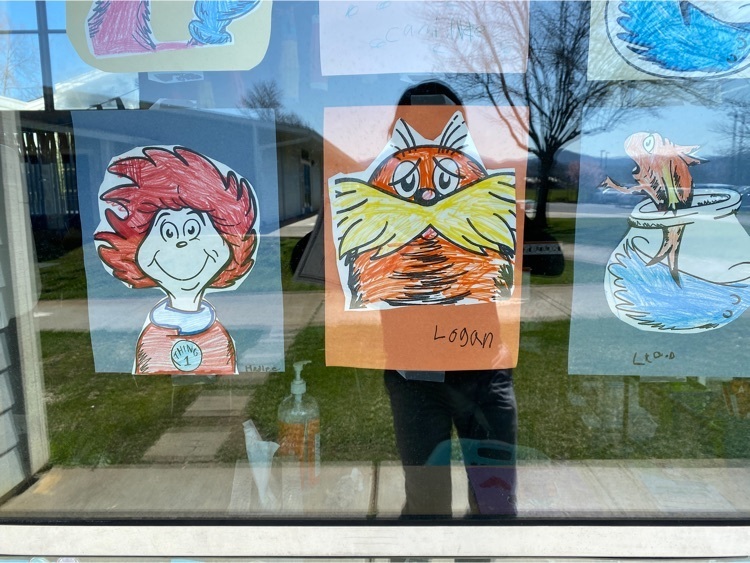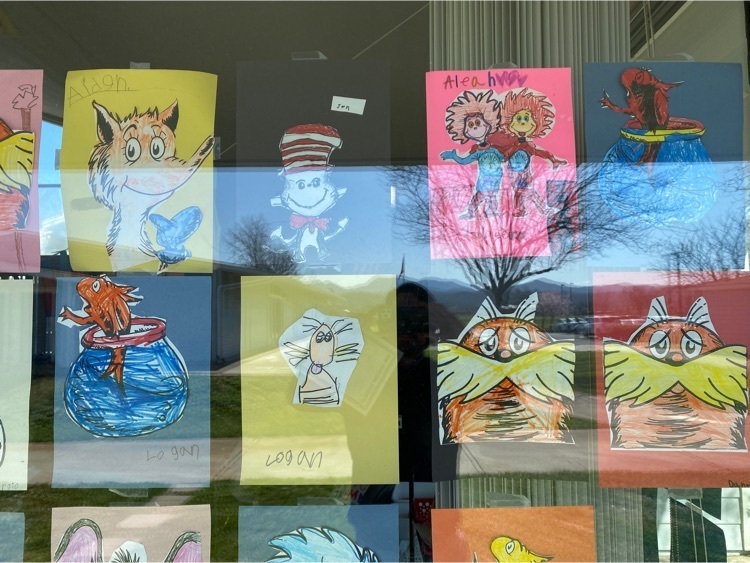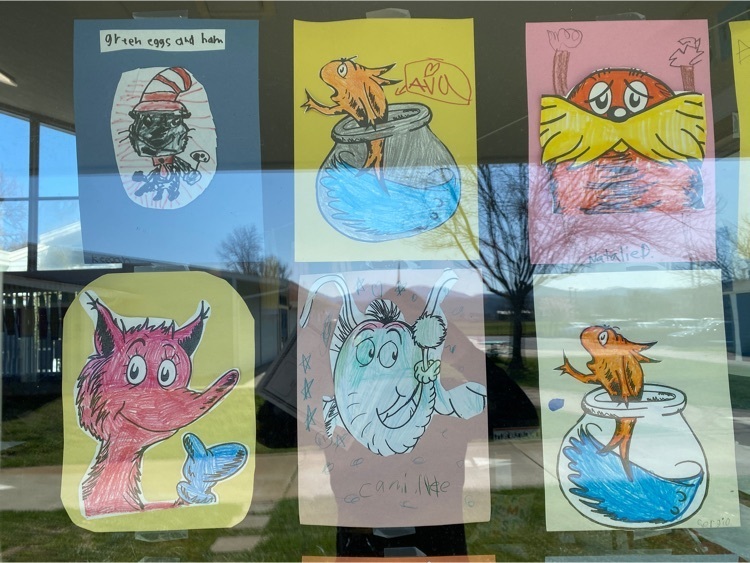 And they're off! Yesterday our sixth graders left for sixth grade science camp. Many of our staff and students came out to send them off. They are having a great time and making memories that will last a lifetime. Have fun sixth grade!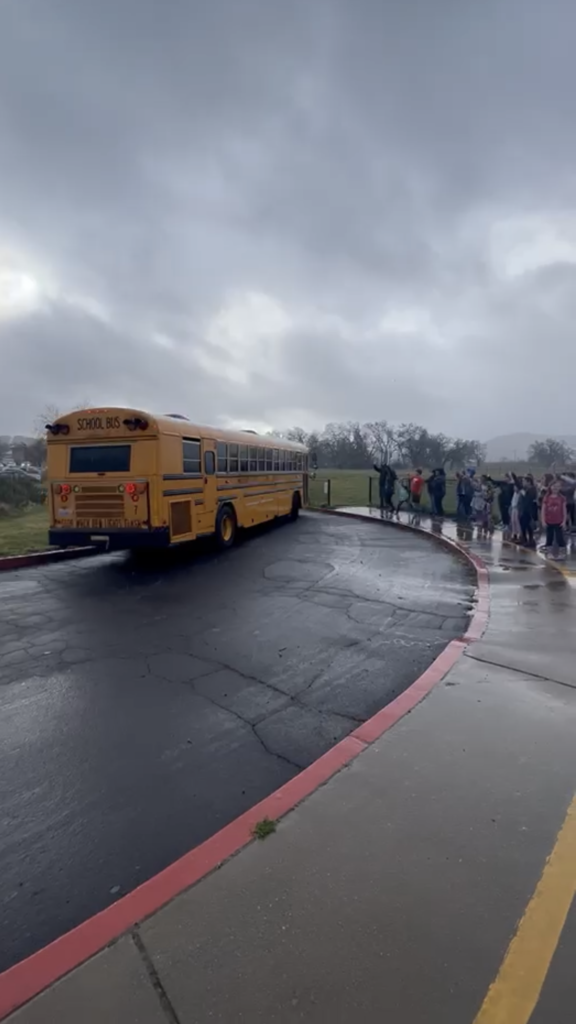 Good morning CVE families, today at 9:30 we conducted a lockdown drill with our students. Students were notified it was a drill ahead of time, so as to ease anxiety as much as possible. Our students did an amazing job and took the drill seriously, and we are very proud of them. Per California Education Code we conduct safety drills monthly. For more information about our safety procedures, please take a look at CVE's Safety Plan by clicking the link below.
https://docs.google.com/document/d/1X41TqCulm9NymPkEPDo8kyPXvI18ke0vJHIIS4cuPvM/edit?usp=sharing
I get by with a little Howl-p from my friends! Happy Friday CVE. We wanted to hold off on the Howler yesterday, so we could announce the winners of the Book Wars reading competition. Control of the galaxy goes to...The Rebels! And for the TK/Kinder competition, the winner is...Mrs. Bazzano's Jedis! What a great month and a half. In the last 6 weeks our students have read over 30,000,000 words; that's 1/3 of their total words read for the school year! Our TK/K students have collectively read over 37 days in that same time! Great job CVE! Check out the Howler to see what is happening at CVE this week:
https://docs.google.com/document/d/1EQiVf3LzGdfZQogewEbbFy0Xqy0akRDx/edit?usp=sharing&ouid=112578725225108209613&rtpof=true&sd=true
Happy Tuesday CVE! reminder that this week is our annual Read Across America spirit week. Please see the attached picture for each day's themes. Also, please join us this Thursday from 5-6 for our Family Reading Night in the CVE Cafeteria. What a great way to wrap up the Star Wars reading competition! The fate of the galaxy will be decided this week and announced this Friday at flag salute.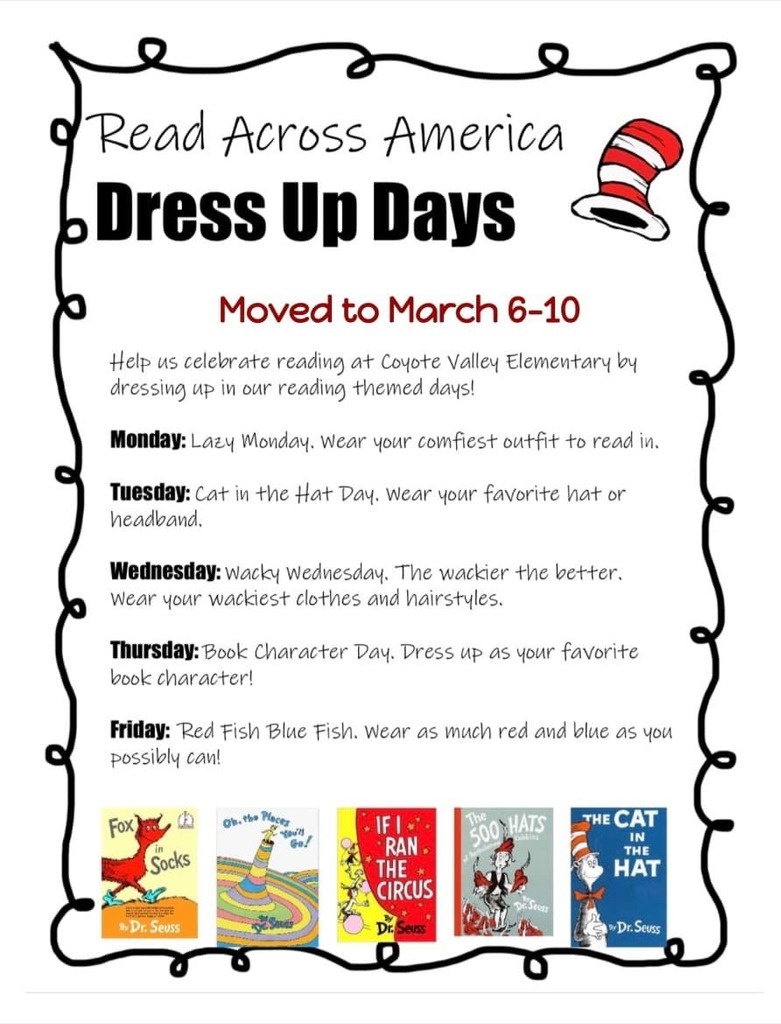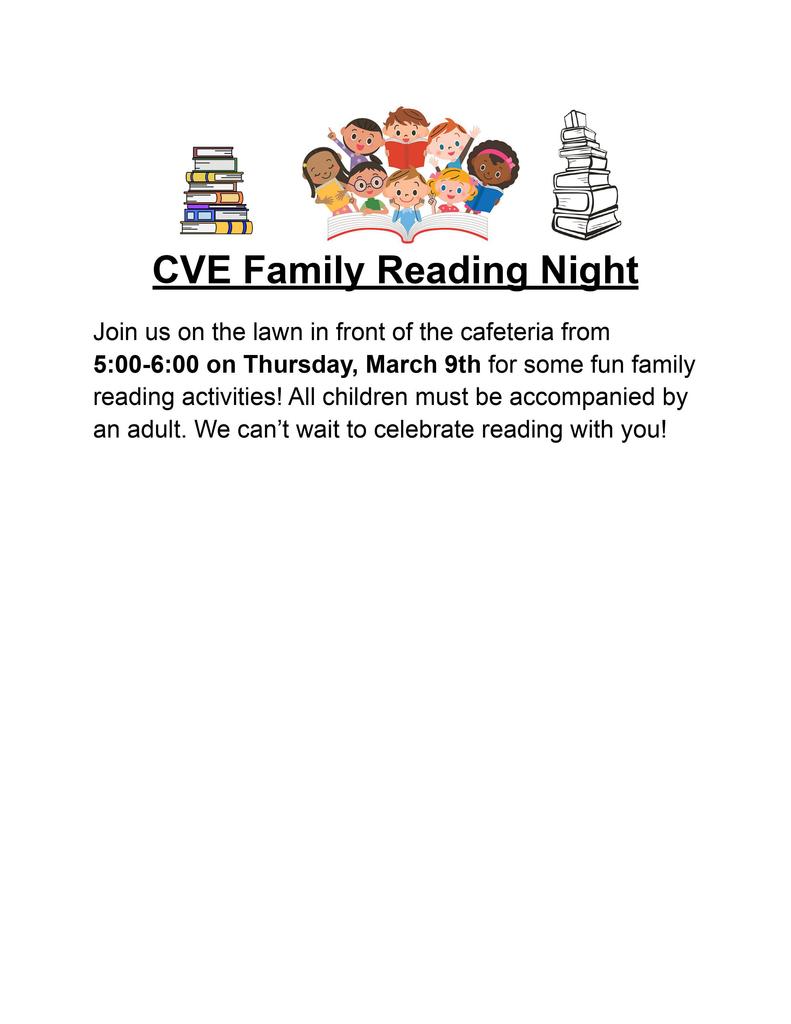 Extra! Extra! Read all about it! Check out our first copy of the Coyote Cubs Crier, a newspaper created by some of our amazing 6th grade students. Keep up the great work Laylony Barocio, Adrianna Jensen, and Liam Miller!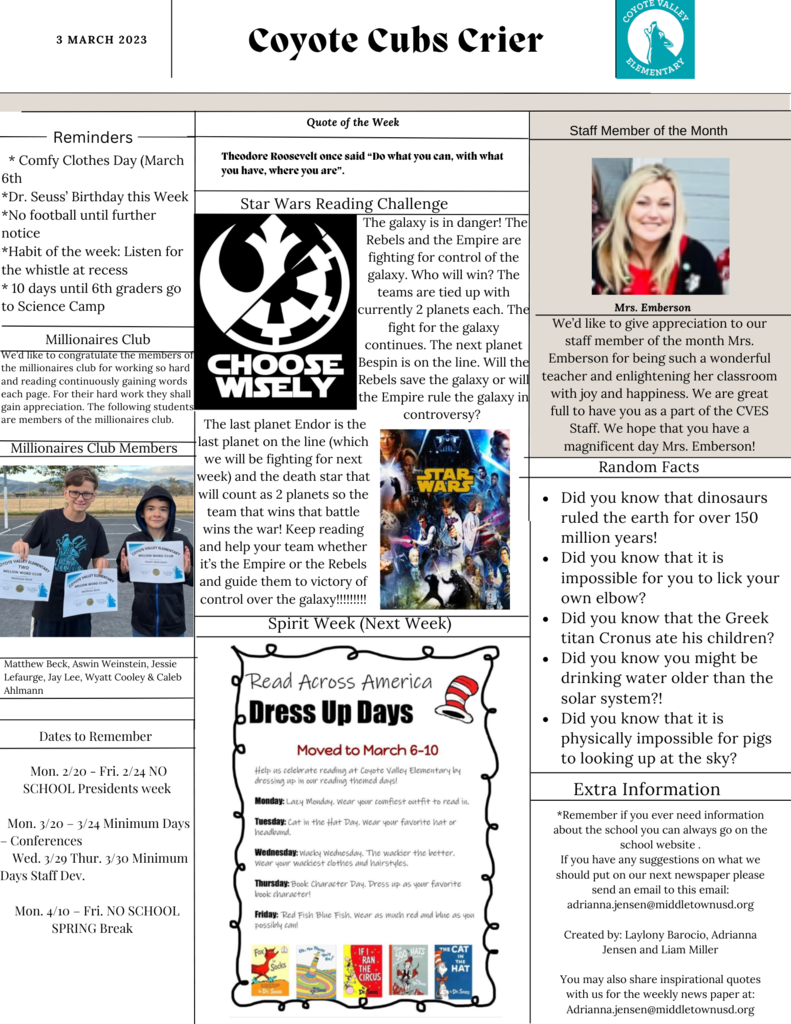 Looking for something fun to do next weekend? Check out our amazing middle school drama club performance of The Rules of Comedy next Friday and Saturday, 3/17 and 3/18. For more information, please see the flyer below.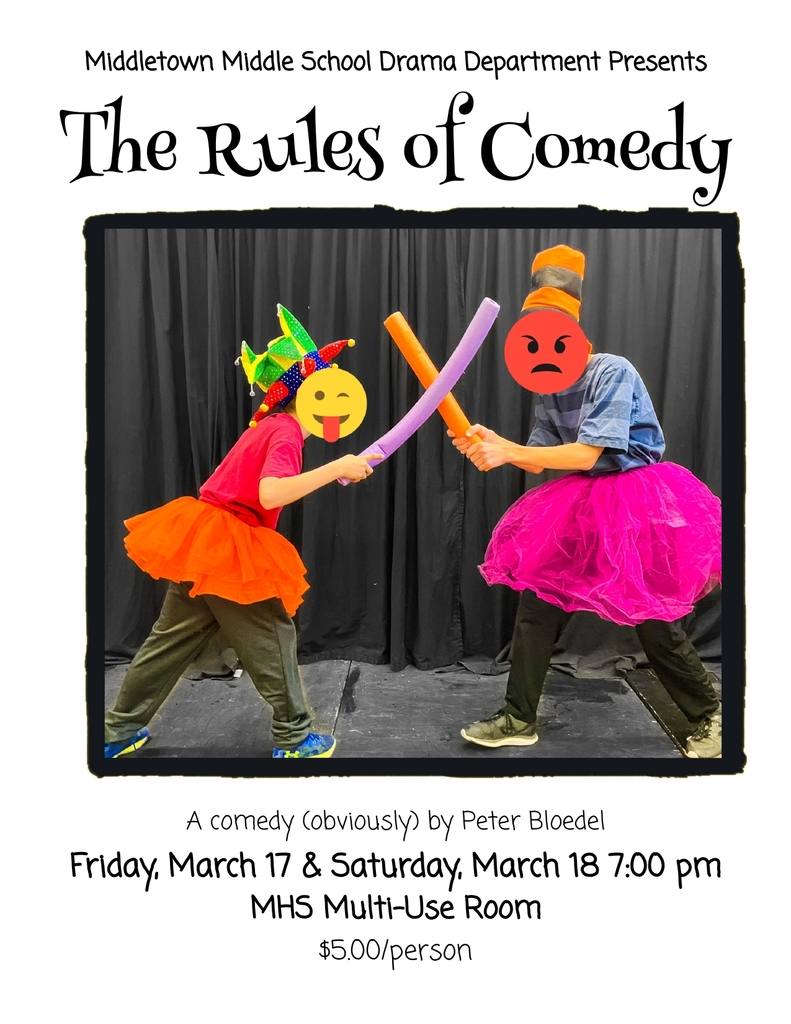 Hi all, due to the weather, CVE will be closed today. Please see the message from MUSD below: [MUSD] Good morning MUSD families, All schools will be closed today March 6th 2023. We will continue to monitor the weather. Please stay safe. Thad R. Owens Superintendent, Middletown Unified School District
PTO meeting tonight at 6:30. Come talk about all things auction. We still need 10+ adult volunteers for this event! We are also looking for donations to help make this event special. Are you crafty and able to donate a homemade item? Do you have a business and would like to donate items or services? Do you have a skill that you'd like to offer lessons for? We are open to all donation ideas. Come share yours tonight at the PTO meeting, and let's make this auction one to remember! Can't make the meeting? Reach out to Kellie Davis at (707) 363-7817 and let her know you'd like to volunteer or donate for the auction.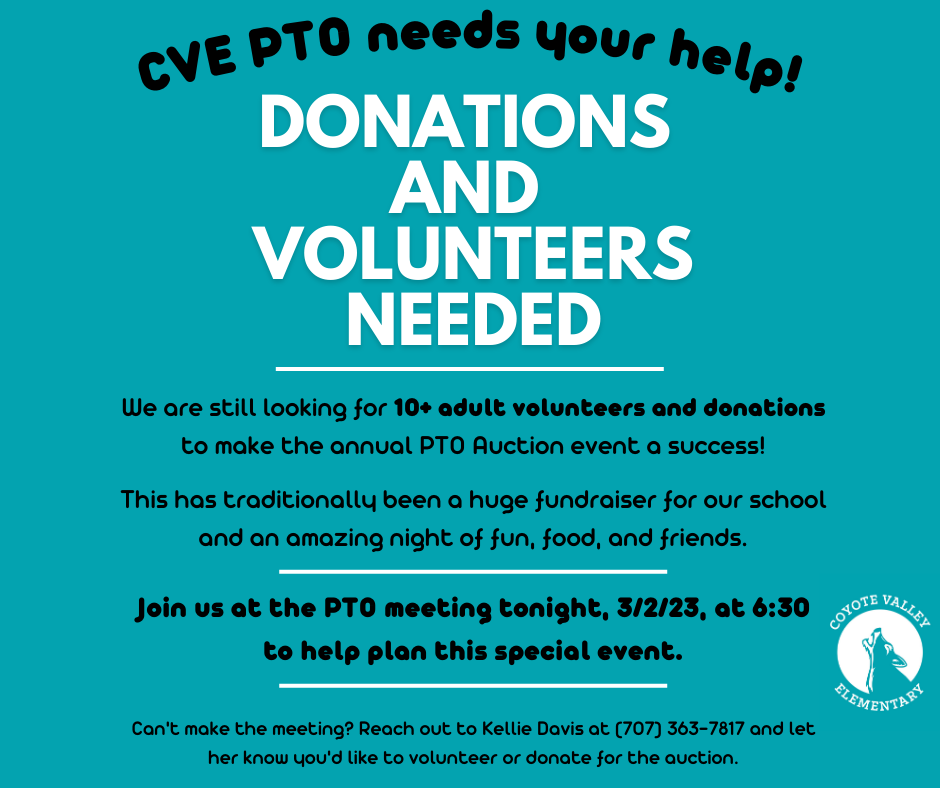 We'll see you tomorrow morning CVE! Message from MUSD. Good Evening MUSD Families, We are planning for all Middletown Unified Schools to be open tomorrow at normal school times. We will be running the modified snow and ice routes for Cobb buses. All other routes are normal. Please be very careful when driving in the morning.
Please join us on Thursday, 3/9 from 5:00-6:00 PM to celebrate Read Across America with our annual Family Reading Night. We encourage all families to come down and celebrate reading at Coyote Valley. All students will need an adult present. Please note: We will monitor weather and host either in front of the cafeteria on the grass or inside the cafeteria depending on weather and temperatures.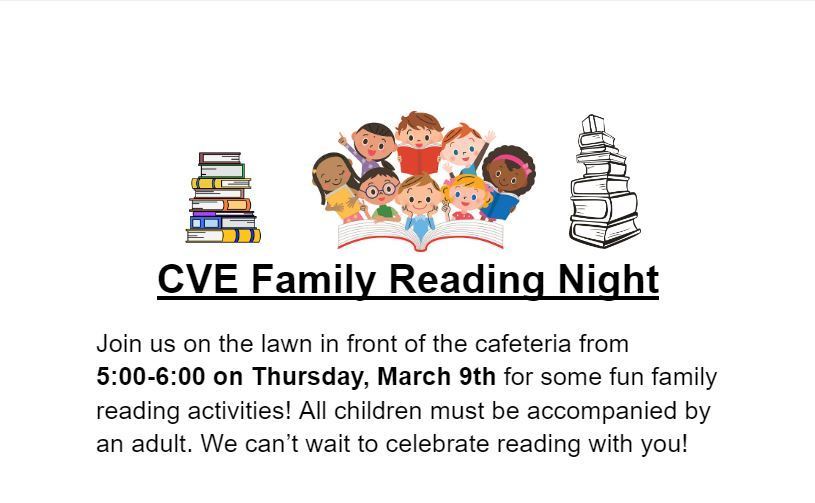 Please see the message from MUSD below: Dear MUSD Families, After meeting with the Lake County School Superintendents, Office of Emergency Services, MUSD Administration and PG&E it has been determined that we are unable to open schools at this time. All Schools will be closed today. Tuesday February 28, 2023. Please stay safe. -- Thad R. Owens Superintendent, Middletown Unified School District
Good Afternoon MUSD Families and Staff, After meeting with the Lake County Superintendents at 4:00 today and with input from OES (office of emergency services), the Lake County Sheriff's department and PG&E it has been determined that there is not enough information to make a call on school closures at this time. MUSD administration will meet at 5:00 AM to determine if it is safe to open schools on Tuesday. We will update everyone by 6:00 AM about the status of our schools for tomorrow. Thad R. Owens Superintendent, Middletown Unified School District